Photo Credit: Ariel Schalit-AP
Watch and Share this video to learm more on how you can help support Israel: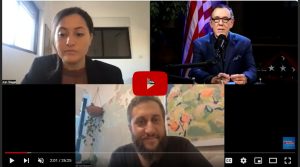 Dear Friends and Supporters,
As everyone knows, Israel is at war.  Over the years, Christian Life Missions supporters have given hundreds of thousands of dollars for various projects in Israel, from an ambulance to bomb shelters to rebuilding a community center that terrorists bombed. Now they need our help more than every.  We are working with two Messianic ministries that are rallying to the need.  One is Vision for Israel and the other is Jews for Jesus who bring the gospel while meeting physical needs.
I just interviewed two representatives about what it's like to be in a war zone and what they are doing and what they need.  Watch it here.
Every dollar that comes in will go to the need. Just today I authorized sending $24,000 and we will send more as the money comes in.
Our fellow brothers and sisters in Israel are in need of our support and prayers during these trying times. We are committed to offering our help, and we invite you to join us in this vital mission.
There are various organizations in Israel tirelessly working to provide relief, support, and protection to the people. We have identified several of these organizations that are making a significant impact and are in need of financial assistance. Your generous donations can help ensure that these vital efforts continue.
Christian Life Missions is a platform through which we will share our mission, stories of faith, and opportunities to make a meaningful impact in the lives of those in need, starting with a special focus on supporting the people of Israel during challenging times.
 How You Can Help
If you feel called to support our mission and make a difference in Israel, there are two ways to contribute:
Mail Donations: You can send your donations to our address at 600 Rinehart Rd, Lake Mary, FL 32746. Please make checks payable to Christian Life Missions.
Donate Online: For your convenience, we have set up an online donation portal on our website. Visit christianlifemissions.org to make a secure online donation.
Your support, no matter the amount, can go a long way in bringing relief and hope to those who need it most. We appreciate your kindness and generosity.  And 100% of what you donate will go to these ministries in Israel. Nothing is taken out for expenses by us.
We would also like to extend an invitation to pray for the people of Israel, asking for peace, strength, and protection during these uncertain times.  We are commanded by scripture to pray for the peace of Jerusalem and that God blesses those who bless Israel.
It's always good to remember Our Mission:
At Christian Life Missions, our purpose is to make a positive difference in the world by spreading love, faith, and hope. We believe that it is our Christian duty to reach out and help those who are less fortunate, facing hardships, or in need of assistance. Our mission is to extend our hands and hearts to bless and protect individuals and communities, both locally and globally, who are facing difficult circumstances.
Stay Connected
Stay connected with us through our newsletter, website, and social media channels to receive updates on our missions, stories of impact, and future opportunities to help those in need. We will keep you informed about how your contributions are making a difference in the lives of individuals and communities.
Thank you for joining us on this journey to bring blessings and protection to those who need it the most. Together, we can make a meaningful impact on the world.
Blessings and love,
Stephen Strang, president
Christian Life Missions
600 Rinehart Rd
Lake Mary, FL 32746
407-333-0600