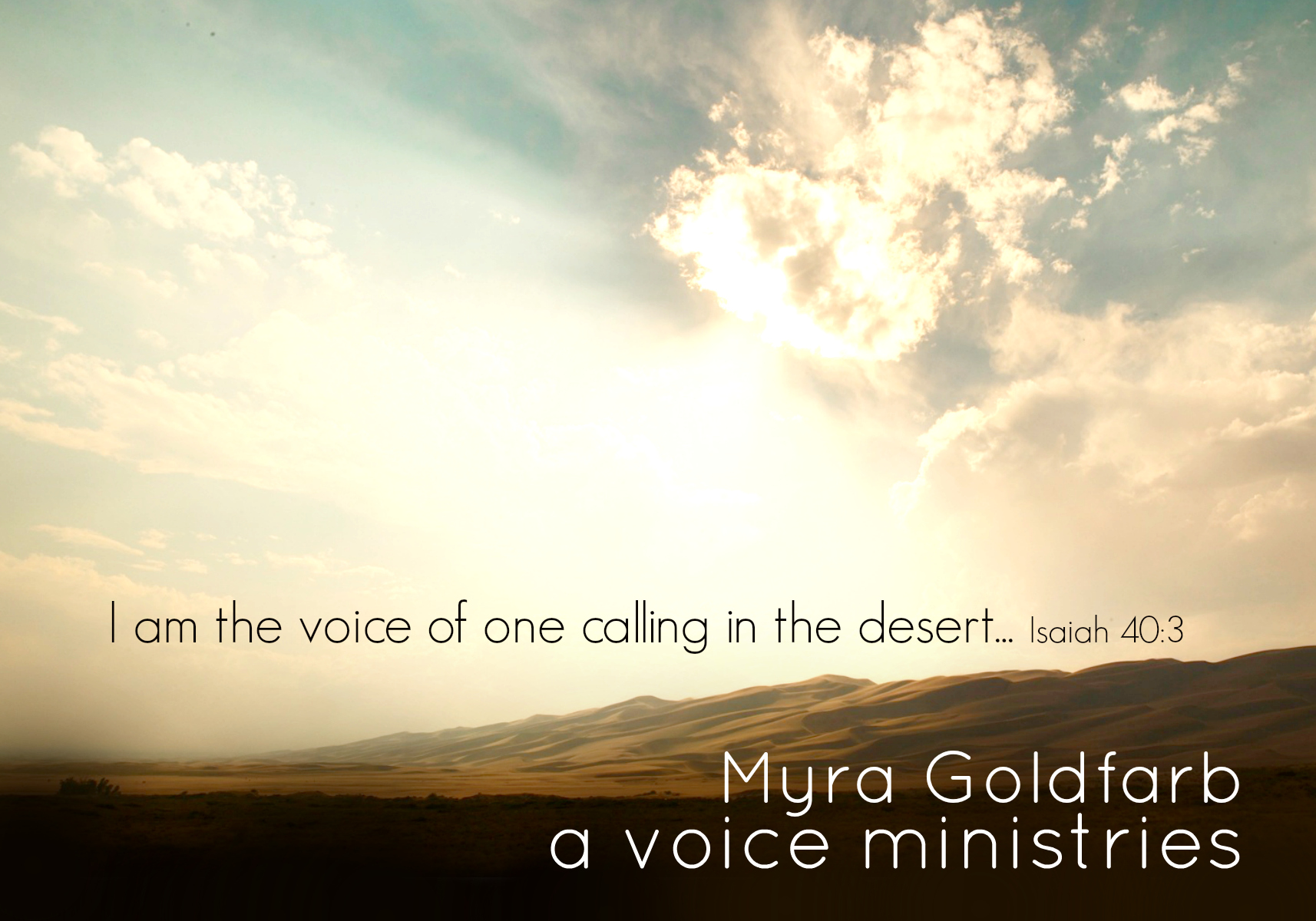 Collected:
$4,967.00
Goal:
$5,000.00
Description
The mission of A Voice Ministries is to be a literal reflection of Isaiah 40:3-4, and John 1:23.  It is a mission with the crying call of God's heart for us to be a voice for the Lord – A voice of one calling out the good news into the wilderness and the dry places, wherever and whenever God sends.
Delivered from a life of depression – fear of man – and fear of rejection – Myra Torres Goldfarb met the Lord on February 23, 1982.  Jesus delivered her from the depths  of depressions and that is what compels her to go.  That is why she must call out the good news in the wilderness, to the dry places, and hurting souls.  A Voice Ministries, led by the Spirt of God, has taught courses on intercessory prayer and has spoken at churches and conferences around the United States and abroad.
Centered on prophetic exhortation in the body of Christ, A Voice is but one voice whose sole purpose is to proclaim the love of God in hopes that others will join in the chorus: "Prepare the way of the Lord" (John 1:23).  Today, Myra and her husband, Barry Stephen Goldfarb, live in Deland, Florida.  Their son, Eric and his wife, Joanne, live in Hawaii with their three children.  Ministering from her home, she remains ready and willing to go – wherever and whenever God sends. She's traveled to Guatemala, El Salvador, and Puerto Rico to carry the message of hope that burns inside.
"To do anything else with my life would belittle what God has done for me.  There is a fire inside that I cannot escape; it burns to the very core of my being and pushes me onward.  I have to go – I just have to go – wherever and whenever God sends me.  The love of God compels me to love others and that is why I cannot stay quiet.  That is why I must call out the good news into the wilderness, to the dry places, to the hurting souls.  Wherever He sends, I must go.  He has transformed me wholly, radically and mercifully.  Jesus delivered me from the depths of depression, from the darkness of fear and I know that I know that He can and will do the same for others.  I am only but one voice calling in the wilderness.  What compels me to move, to breathe and to live is the love of God for lost people – And the hopes that they too, will join in the echo:  'Prepare the way of the Lord' (John 1:23)."