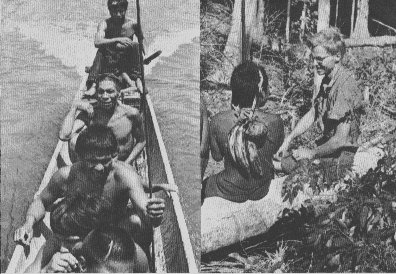 Bruce Olson is a missionary who has focused his work on the country of Columbia since 1961. When he was only 19-years-old, he committed to moving to South America. He purchased a one-way ticket to the region to spread the gospel.
After his arrival, he ventured into the unchartered territory of the northeast Columbia jungles. Once there, he met face-to-face with the Indian tribe called the Motilones.
They are also called the Bari people or Motilon-Bari and are fierce and primitive.
Who are the Motilones?
When you understand the history of the Motilones, their fierceness makes sense. During the 16th century, Spaniards arrived on Columbian soil looking for gold. They believed it was forming from frequent lightning strikes hitting stones. 
The Motilones were able to fend off the Spaniards and defend their territory. The Spaniards gave this group their name Bari "Motilones." It means "people of the short hair," according to Wikipedia.
The Bari men even stopped major looting of gold in the region by Ambriosius Ehinger in 1530. In the 1900s, oil companies made their way in after oil was located on the Motilones territory. 
Researcher Roberto Lizarralde made the first peaceful contact with the region in 1960. He studied the Bari's ethnobotany. After that, Bruce Olson started living with the Motilones as part of his Christian ministry in 1962.
 
Motilones Accept Bruce
 At some point, the Motilones began to call Bruce "Bruchko," as that is how they pronounced his name. 
Bruce worked without affiliation to any specific missions board or organization. Even without this support, he was able to start medical clinics and establish schools for the Motilones. He translated the bible into their language and led many tribe members to accept Christ. 
No matter what positive work Bruce brought to the Motilone region of Columbia, it remained volatile. It had been "plagued with escalating problems, including revolutionary uprisings and plundering by drug barons" for a long time, according to Christian Life Missions. 
During this chaos, Bruce remained an effective influence through his humble demeanor. He won over the love and respect of the Motilones tribe and taught them many things. His book called "Bruchko" accounts for the positive relationship he had with the tribe and the country of Columbia.
Charisma Magazine quoted Bruce, "Can you imagine coming from the jungles? They had never seen cars before. They didn't know what glass was…So several students from the tribe went to school for the first time. They had to learn to count beyond three; they had to learn Spanish."
Even with all his positive input, Bruce's time with the Motilones tribe was not without incident. His ministry took a scary turn when he was captured by the National Liberation Army (ELN) in 1988. 
The ELN was determined to control the Motilone territory "as part of their strategy for revolution," as described by Christian Life Missions. They used their judicial system to find Bruce guilty of exploiting the Motiline tribe and sentenced him to death. 
A journalist named Maria Cristina Caballero wrote a series of articles about Bruce's captivity. They garnered a lot of attention and eventually led to his release. One of the guerrilla leaders said that his capture was a mistake and an embarrassment to the ELN. 
However, his release did not come before he was tortured and threatened with death. He even faced a firing squad with guns loaded with blanks. It goes without saying that Bruce has nerves of steel.
True to his service, Bruce took advantage of his time with the ELN and led many of the guerillas he had contact with to the Lord. He was so grateful his life and time could be used to work out God's sovereign will for everyone he touched in Columbia.
Bruce's Ministry Today
Now in his 80s, Bruce is still active in his ministry to the Motilones and other Columbian tribes. He has spoken before the United Nations. His bestselling book is required reading for many missionary organizations and Christian schools. He also had a movie made about his life in 2017 called 'Bruchko.'
The work Bruce started in Columbia is still alive today. His influence has led to numerous Columbians graduating from local universities. They are now practicing doctors, accountants, forest rangers, etc.
These graduates take their knowledge back to their communities and share what they've learned by going to schools. Many more in the region will benefit from what Bruce was able to do for the Motilones and other Columbians for years to come. 
If you would like to donate to Bruce's ministry, be assured that 100% of the proceeds will go directly to him when you donate through Christian Life Missions.